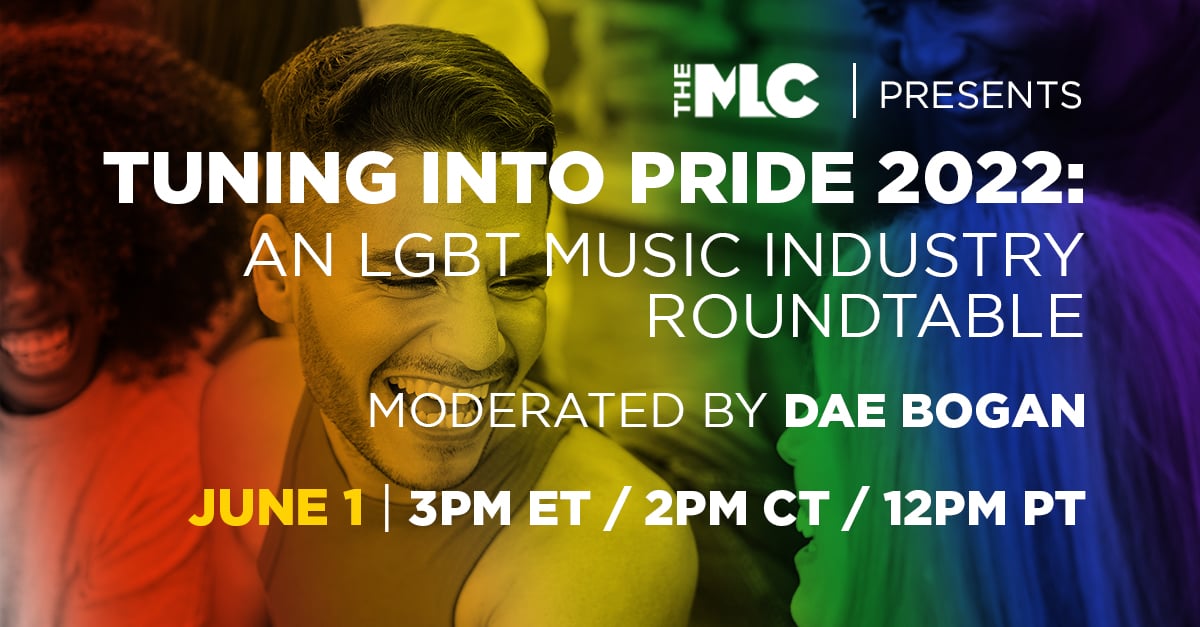 The Mechanical Licensing Collective (The MLC) is commemorating Pride Month this June with two events for LGBT music industry creators and professionals, part of the organization's ongoing work to develop cultural partnership programming that underscores The MLC's commitment to diversity.
Webinar:
Tuning Into Pride (2022): An LGBT Music Industry Roundtable
Wednesday, June 1 at 3 p.m. ET | 2 p.m. CT | Noon PT
This special webinar will feature a compelling discussion on the issues and careers of LGBT creators and professionals in the music industry, as well as an engaging Q&A session during which panelists will unpack and discuss how their identities have impacted their work and personal journeys. The webinar will be moderated by The MLC's Head of Third-Party Partnerships Dae Bogan.
In-Person Workshop:
Pride Music: A Music Business Workshop for LGBT Music Creators

Hosted by Dae Bogan
Wednesday, June 22 at 4 – 6 p.m. CT
This two-hour in-person workshop will consist of music business insights, education and strategies to empower LGBT songwriters, composers and lyricists with the knowledge and tools to become better self-advocates of their own careers. The workshop will also act as a structured platform to explore some of the issues that LGBT music creators disproportionately face in establishing a career in the music industry. The workshop will be held at The MLC's offices in Nashville, TN.
This event has been postponed a new date will be announced soon.
MLC Membership will be verified prior to attendance for attendees using MLC's Promo Code for registration.